Dr. Herman Kao, DDS, MD, FACS
Oral & Maxillofacial Surgeon Dallas-Fort Worth TX
Dr. Herman Kao grew up in Taiwan until his family moved to Vancouver, Canada during his teenage years.
Education and Experience
Inspired by his older sister who was studying dentistry, Dr. Kao pursued an undergraduate degree in Biology at University of British Columbia in 1998 and went on to be the valedictorian of his dental class at the University of Michigan School of Dentistry in 2003. He obtained his M.D. and specialty certificate in Oral and Maxillofacial Surgery at the University of Texas Southwestern Medical Center/Parkland Memorial Hospital in 2009. Dr. Kao is a currently board certified in Oral and Maxillofacial Surgery and is a Fellow of the American College of Surgeons. Outside of his private practice, Dr. Kao is the Vice Chairman and Director of Facial Trauma at John Peter Smith Hospital in Fort Worth, TX. He is also an Associate Professor in the Department of Surgery at TCU school of Medicine.
A Leader in Dental Implant and Maxillofacial Surgery
Dr. Kao has vast experience in dental implant surgery, facial trauma/reconstructive surgery, and corrective jaw surgery. Dr. Kao believes one of the most important parts of his job is educating his patients, enabling them to advocate for themselves and make their own decisions about their clinical care. More than anything, Dr. Kao enjoys connecting with his patients at a personal level and believes his mission to be three-fold: respect patients' time, relieve their pain, and provide them with the best functional and esthetic results.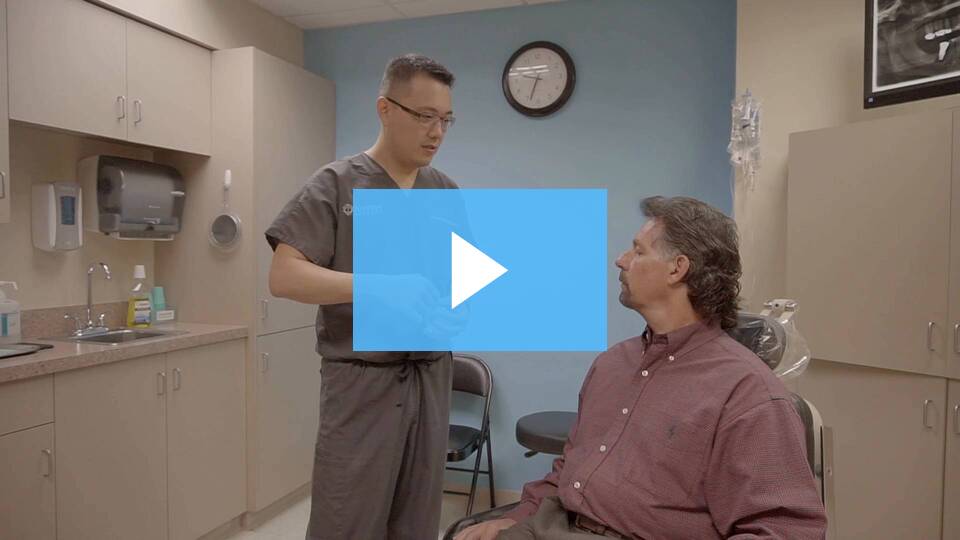 Diplomate, American Board of Oral and Maxillofacial Surgery
Education
University of British Columbia, BS in Biology, 1998
University of Michigan School of Dentistry, DDS, 2003 (Valedictorian)
University of Texas Southwestern Medical Center, MD, 2006
Certificate of training in Oral and Maxillofacial Surgery, 2009
Board Certification in Oral and Maxillofacial Surgery, 2010
Academic Appointments
Vice-Chairman
Director of Maxillofacial Trauma
Department of Oral and Maxillofacial Surgery
John Peter Smith Hospital, Fort Worth, Texas
Associate Professor
Department of Surgery
TCU School of Medicine, Fort Worth, Texas
Department of Surgery
Membership in Professional Organizations
American Medical Association
American Dental Association
American Association of Oral and Maxillofacial Surgeons
American College of Surgeons
Texas Medical Association
Texas Dental Association
Publications
Miles BA, Petrisor D, Kao H, Finn RA, Throckmorton GS. Anatomical variation of the nasal septum: analysis of 57 cadaver specimens. Otolaryngol Head Neck Surg. 2007 Mar;136(3):362-8. PubMed PMID: 17321860.
Kao H, Williams FC, Stella JP, Warner MR. Areas Doadoras Autogenas Extrabucais. In,Enxertos Osseos em Implantodontia, ed. Renato Mazzonetto. Editora Napoleao Ltda 2012.
Control of Facial Hemorrhage. Atlas of Oral & Maxillofacial Surgery, editors Kademani and Tiwana.Elsevier 2014.
Mandibular and Dental Fractures, Charter 84, Bailey's Head and Neck Surgery: Otolaryngology, 6th Edition, 2022
Lectures
2014-3-20 UT Southwestern Medical Center OMS Grand Rounds
In-Office Sedation: Management of Complications
2015-1-28 UT Southwestern Medical Center OMS Grand Rounds
Mandibular Condyle Fractures: Diagnosis and Management
2016 UT Southwestern Medical Center OMS Grand Rounds
2018 UT Southwestern Medical Center OMF Grad Rounds
2019 JPS Trauma Talk
Maxillofacial Trauma – Diagnosis and Treatments
2021 Fielder Park Dental Practice
Medical emergencies in the dental office